Download Installation Guide

Term of warranty
Q&A
Bitspower Njord Dual-Fin DRGB Fan
Bitspower is out to bring the very best in fan design with the Njord Dual-Fin DRGB 120mm fan.  Featuring a dual fin layout for higher static pressure, the Njord fan is also extremely quiet while being highly efficient. Topping at 1800 RPM, the Njord fan will produce a low 28 dBA. In addition, the fan's frame is equipped with 4 rubber pads to damper any disturbing vibrations.
RGB enthusiasts will be pleased to know that the Bitspower Njord Dual-Fin DRGB fans are equipped with an embedded Bitspower Digital RGB LED strip around the inner frame of the fan shaft for a unique light effect. Bitspower also made sure to have Njord DRGB LEDs certified by ASUS AURA Sync, GIGABYTE RGB Fusion, MSI Mystic Light Sync, and ASRock Polychrome to ensure a synchronous lighting of your system. Lastly, thanks to collaboration with InWin on the daisy chain modular connector, you can synch the RGB effects and speed of multiple Njord fans by daisy chaining them together for a better light effect.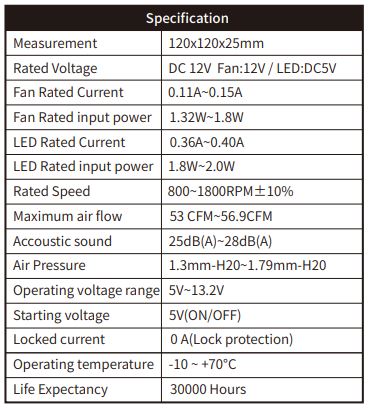 If there aren't enough DRGB headers on the motherboard, you can use the "Bitspower Digital RGB Multi Function Controller", which is available for purchase via the link below:
https://shop.bitspower.com/index.php?route=product/product&product_id=7044
 
I wanna show off, but what's the support I'd need?
◆DRGB
The end of power supply is 3PIN. The sequence is +/D/↓ (some motherboards are shown +5V/D/↓, and the plug is like 4PIN but the 3rd PIN is empty). Please plug in the corresponding direction of motherboard, controller or the wire integrator for one to many. If choosing the motherboard as the power supply, the light effect can be synchronize with MB.

*** Bitspower reserves the right to change the product design and interpretations. These are subject to change without notice. Product colors and accessories are based on the actual product. ***
*** From 15th March 2018, all of our installation guides will be provided electronically via an easy-to-use QR code attached to the packaging. ***
*** Before filling in the water, please make sure all the components are installed correctly. To prevent any leakage which may damage the PC components, please perform a 24-hour leaking test with only the pump connected to the power supply. ***
*** When using the leak tester on a water cooling loop, in order to avoid product damage due to excessive pressure, the input pressure should not exceed 0.5kg/cm2 (bar), and do not over 30 second. The leak tester must not be used when there is water in the loop or when the pump is running. If the product is damaged due to excessive pressure or incorrect use, Bitspower's product warranty will be null and void, and the cost of any damage to the hardware will be borne by the customer. ***
Last updated : 2022-07-14 13:20:02
Bitspower NJord Dual Fin DRGB Fan- White
Brand: Bitspower
Product Code: BP-FX1812-WH
UPC: 885488063262
EAN: 4712914783264
Related Products:
Availability: In Stock